Training Partners
Royal LePage has partnered with Brian Buffini, Chris Leader and Richard Robbins to bring you high-quality coaching and mentorship programs.

RRi On Demand
RRi On Demand is a multi-million dollar, interactive, virtual training system designed to engage, entertain, and educate real estate professionals. It features more than 18 sales training courses. Royal LePage offers an exclusive 10% discount through our valued partnership with Richard Robbins International.

Leader's Edge Virtual Training
Stand out from the competition and increase your productivity with the Leader's Edge Virtual Training system. This 12-week sales training will teach you more than just selling techniques; you'll get high quality, in-depth training on how to run a successful business.
Leader's Edge Virtual Training gives you the confidence to succeed and will allow you to master a wide range of sales skills.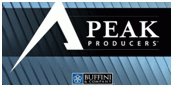 Buffini & Company Peak Producers
Whether you're new to the business or a long-time REALTOR®, you'll learn what it takes to overcome peaks and valleys in your income and produce at a consistent, high level. The content in this program is fresh and relevant for today's market and is presented in an entertaining, step-by-step sequence.
Support
Agents –  Speak to your broker about bringing Peak Producers, Leader's Edge or RRi On Demand to your office
Brokers/Managers – Please contact Learning Services at 416-510-5831 or learningservices@royallepage.ca if you have any questions.