Starting a Team
While working as a team can seem attractive for growing your production, becoming an effective team leader requires careful planning. Building a solid foundation for your business to grow requires personal and professional introspection to clarify what you want to accomplish as a team and as a team leader. From that vision, crafting your team's mission, values and unique selling proposition helps you attract and retain the right talent required to grow.
If you are an experienced team leader and are struggling with some challenges in your team, the latter part of this section, Defining Your Team, can help you get clarity to ensure your entire team is working toward common goals.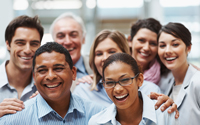 Ready to start a team?
Before starting a team, it's important that the team leader has sufficient demand or business to allow them to scale their production, the operational capacity to maximize efficient growth and the mindset required to make effective change.
Take this quick quiz next to determine if you are a good candidate for starting a team.
A Team Leader's Reality helps you understand the role of a team leader and the characteristics and beliefs that make them effective.
Defining Your Team
Now that you know you want to start a team, defining how your team will take shape and how they will operate helps to ensure you avoid the common pitfalls countless team leaders have made when they are not fully prepared. Organic growth, as natural as it feels when you are overwhelmed and need immediate relief, can create negative reverberations that take several years to overcome. Investing in some pre-planning now will create a solid foundation for your business that will enable you and your team to grow sustainably for years to come.
Before you hire your first team member, you will need to ensure that you are ready to scale. The first steps to starting a team, will ensure that your operations are prepared to grow.
To attract and retain the right members to your unique team, you need to determine what you want your business to look like – what the team is working to achieve, the direction the team will take, how the team members will conduct themselves, and what sets the team apart. In other words, your team's vision, mission, values and unique selling proposition (USP). Look into Your Team Playbook document to figure this out!