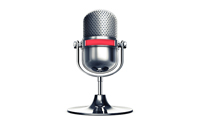 Radio Advertising
Looking to advertise on the radio? You have access to several 30 second radio adverts to help created to promote you market yourself as a knowledgeable and experienced Royal LePage agent.
Negotiating the best price focuses on helping your client sell their home. Exemplifying top marketing tools and excellent customer service, Royal LePage REALTORS® can be trusted to deliver the results clients need.
With background music
Finding your dream home (.wav)
Negotiating the best price (.wav)
Without background music
Finding your dream home (.wav)
Negotiating the best price (.wav)
The following radio ads promote Royal LePage as a "Canadian Bestseller Since 1913," but each has a different tone.
Home-grown Canadian (.mp3) uses a traditional/middle ground approach to present Royal LePage REALTORS® as the most experienced and knowledgeable REALTORS® in the industry.
Great advice (.mp3) presents Royal LePage as a Canadian Bestseller in a more humorous manner and is focused on responding to the For Sale By Owner trend.
These 20-second radio ads have been designed so that 10 seconds of customizable information (your information) can be added to the end of each spot.
If you would like to have the ads customized with your own information, simply send the following web address to your local radio station and have them download the ad(s) of your choice: http://docs.rlpnetwork.com/20050920_RadioAd.htm.
The majority of radio stations will not charge for adding the additional information to the ads, as long as you are purchasing radio-advertising time.
If you have any questions on how to use these radio spots, please email Marketing at marketing@royallepage.ca.