National
Garage Sale For Shelter
The National Garage Sale for Shelter is an annual one-day charity garage sale to raise money for women's shelters and violence prevention programs with the support of Royal LePage offices across Canada. Since 2009, we've raised $3 million dollars at the National Garage Sale for Shelter in order to stop the cycle of violence and provide a safe haven and new beginnings to women and children.
Mark your calendars! The 11th Annual National Garage Sale for Shelter will take place Saturday, May 11th, 2019.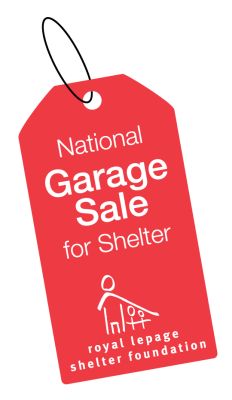 National Garage Sale for Shelter – Key materials:
Shelter Foundation – General Resources:
Marketing Resources
The following PDFs can be customized with the specific details of your Garage Sale. Note: you must download and open the files into Acrobat and then you should immediately save them to your desktop or to a folder on your computer.
Our Sponsors
We're very fortunate to have the continued support of our incredible sponsors, TD Canada Trust Mobile Mortgage Specialists, Atlas Van Lines Canada, and Genworth Canada. Their generous financial and in-kind support underwrites the costs of this event at a national level (e.g. the Garage Sale signs, balloons, aprons, etc. that you receive to ensure visibility and consistent branding) which means 100% of the funds you raise goes toward our cause. Their help contributes a great deal to the collective success of the National Garage Sale for Shelter and we can't thank them enough for their commitment to the Shelter Foundation.
Atlas Van Lines Canada is pleased to provide you with a local contact to assist in the following ways: by providing storage and transportation before the event; volunteering the day of the event; and helping dispose of what is left over after the sale. Please keep in mind that in some areas, a local Atlas agent may not be available or may not be able to offer the full array of services. Each individual Atlas agent, where available, will work with you to assist in whatever way possible. Within a few weeks of you sending in your Garage Sale Registration Form, your Atlas partner will contact you to make arrangements to help you with your sale.  For guidelines on how this partnership works, click here.  Please also note that Atlas has the right to refuse to pick up items that they deem unsellable.
As our National Presenting Sponsor, TD Canada Trust Mobile Mortgage Specialists is sponsoring us financially at a national level, as described above. However, some of the local Mortgage Specialists may be keen to help out on the day of the garage sale.  If you'd like to get your local TD Canada Trust Mobile Mortgage Specialists involved, contact the Shelter Foundation and we will connect you with the appropriate person in your area.
The logos of our sponsors are to be included in all your local promotion and advertising for the event: