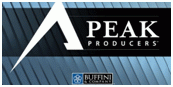 Buffini and Company Peak Producers 

® 
Buffini & Company Peak Producers ®
Peak Producers gives you a step-by-step action plan to overcome peaks and valleys in your income and produce at a consistent high level. This program is 25 years in the making and combines the secrets and strategies industry expert Brian Buffini & top producer Joe Niego used to build rock-solid real estate businesses.
Whether you're new to the business or a long-time REALTOR®, the content in this program is fresh and relevant for today's market and is presented in an entertaining, step-by-step sequence.
Benefits of the Buffini Peak Producers® program:
Generate more leads & close more sales
Learn the 4 market conditions you'll face with buyers
Master the blueprint for getting a home sold
Get control of your finances
Start operating your business at a peak state
How Peak Producers Works:
Peak Producers training is delivered through a series of DVDs featuring Brian Buffini. It's facilitated by your Broker/Owner, Manager or other facilitator who is licensed by Buffini & Company. You can take the course in your office or in an authorized facility near you.
During each week of the program, you'll:
Watch video training from industry expert Brian Buffini
Complete your action steps
Meet with your facilitator & fellow Peak Producers students to practice crucial sales skills, synergize on great ideas and receive accountability & motivation
Support:
Agents: Talk to your broker about hosting Buffini Peak Producers in your office.
Brokers/Managers: Contact Learning Services today to inquire about bringing this training to your area:learningservices@royallepage.ca or (416) 510-5831.
Buffini & Company Coaching Solutions
Buffini & Company offers individual (One2One) and group coaching opportunities. Buffini & Co offers a 30 minute complimentary coaching sessions.